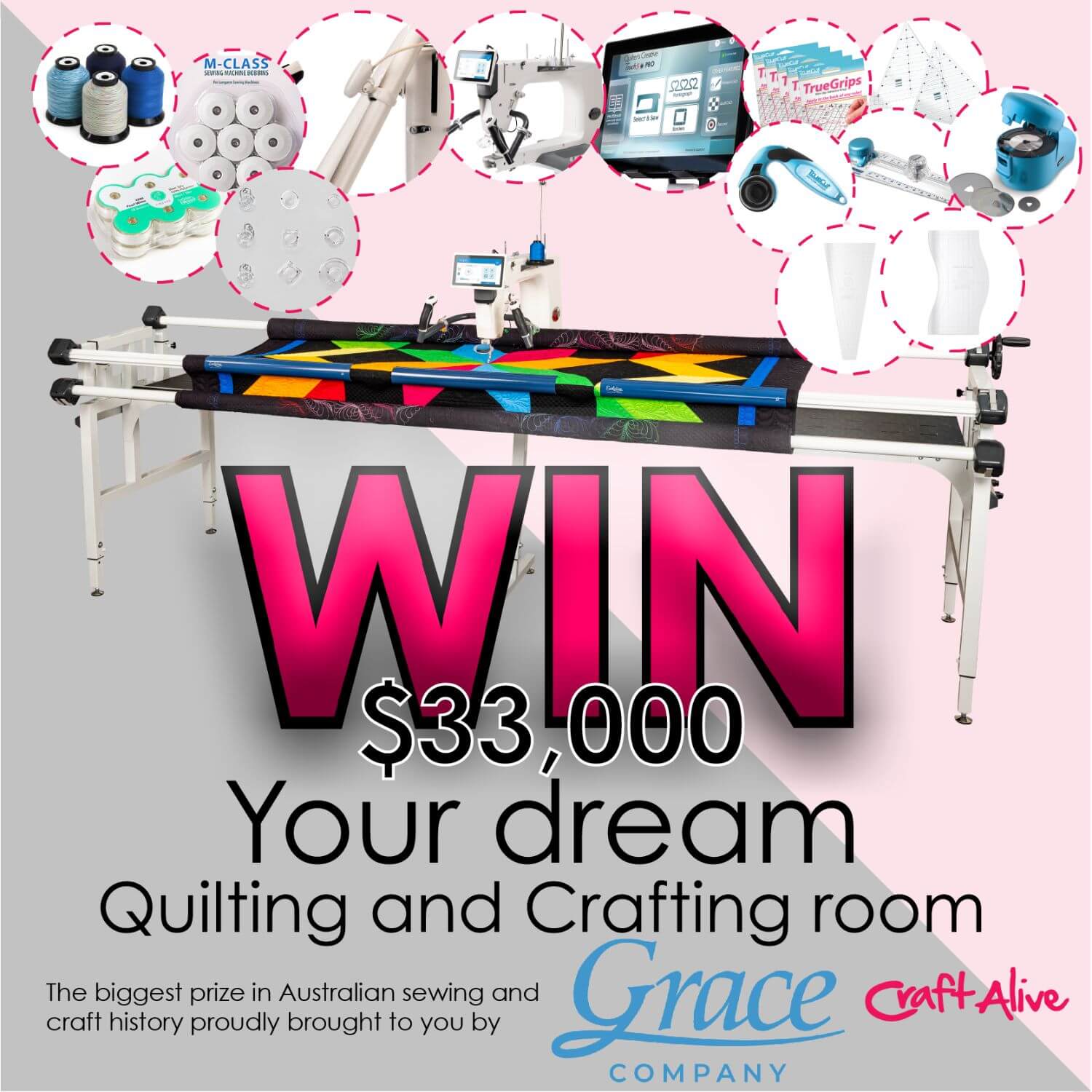 Major Prize Draw
The biggest prize in Australian sewing and craft history, proudly brought to you by Grace Company and CraftAlive in 2023. Win your dream quilting and crafting room valued at $33,000 AUD.
How to enter:
– Buy your CraftAlive entry tickets online. Every CraftAlive 2023 entry ticket purchased online is automatically entered into the major prize draw.
– In person at the competition entry desk when you're at CraftAlive in 2023
– Online during The Great International Craft Show (GICS) Series 16, 17 & 18.
Click here for full prize details and entry conditions.



Feature Events
Select your location for event and class details. Australia's favourite craft events
Now in our 33rd year, CraftAlive is Australia's largest craft event series with events in ACT, NSW, QLD, SA, TAS, VIC and WA. CraftAlive events feature craft teachers and retailers from across the country and covers a wide range of crafts from traditional to modern.
Each event features both local and national experts with the latest craft supplies, kits and equipment.
CraftAlive is a hands-on event providing the chance to learn from specialist teachers with classes for beginner to advanced.
"CraftAlive is more than just an event…it's a wonderful experience."
The Great International Craft Show (fondly known as GICS) is the original online craft event. Like a CraftAlive but all online – with an online shopping hall, classrooms and lots of community chatter. Plus it's free to attend. Head to 'All Events' to find the next online event date and join in online.
Buy CraftAlive Entry Tickets
Select your event location from the menu below then click the buy tickets button.

Craftalive