Description
Kits, supplies and equipment.
FREE venue parking.
BUY your entry ticket online now.
CraftAlive is a hands-on event.
A chance to learn from world class specialists with interactive classes on Thursday, Friday and Saturday.
Please note, entry tickets are not day specific. Class bookings are day and time specific (released 6 weeks prior to the event). We recommend booking ahead to secure your spot.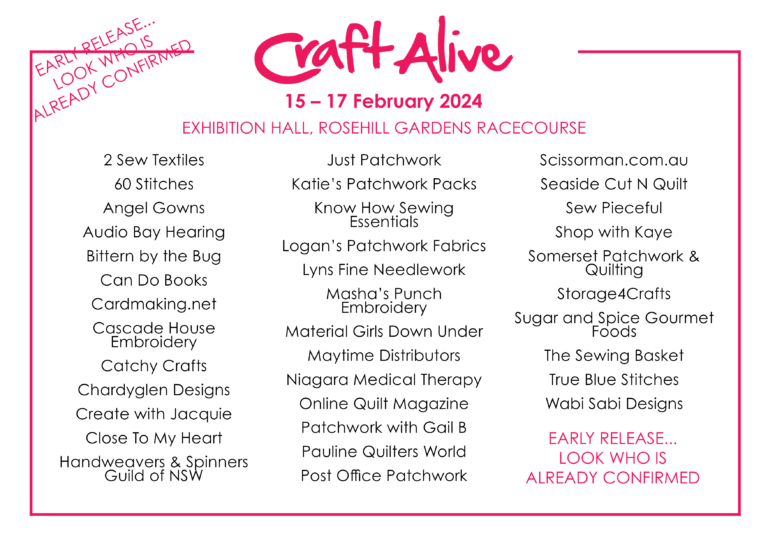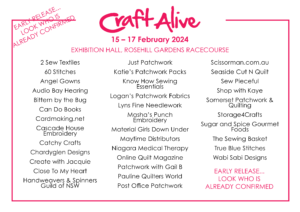 Details of exclusive displays and event features will be released here…watch this space.
Classes run all day, every day of the event. Hands-on and demonstrations. Our teachers are busy preparing new classes. Details and tickets coming soon.
Entry tickets are available online and at the door.
We recommend purchasing online for express entry.
Classes are available to book online, and seats are limited.
Online class bookings close on the evening before the doors open. BUT you can still book classes in person at the event directly with the teacher (if spots are still available.)
Lost or forgotten your online ticket? That's ok. Simply come to the front desk on arrival and we can search for your name and transaction. What's most important to us is fast entry so you can enjoy the event.
Yes we accept companion cards. No need to purchase a ticket for your companion, just your own concession ticket. Then show your companion card at the front desk for free access.
Stop for a chat and some food. A tasty range of lunch, cakes and drinks available at the event cafe.

Craftalive